The Diamond Tennis Necklace & Bracelet: A Glistening Duo By Orosergio
Posted by Haig Ter-Martirosian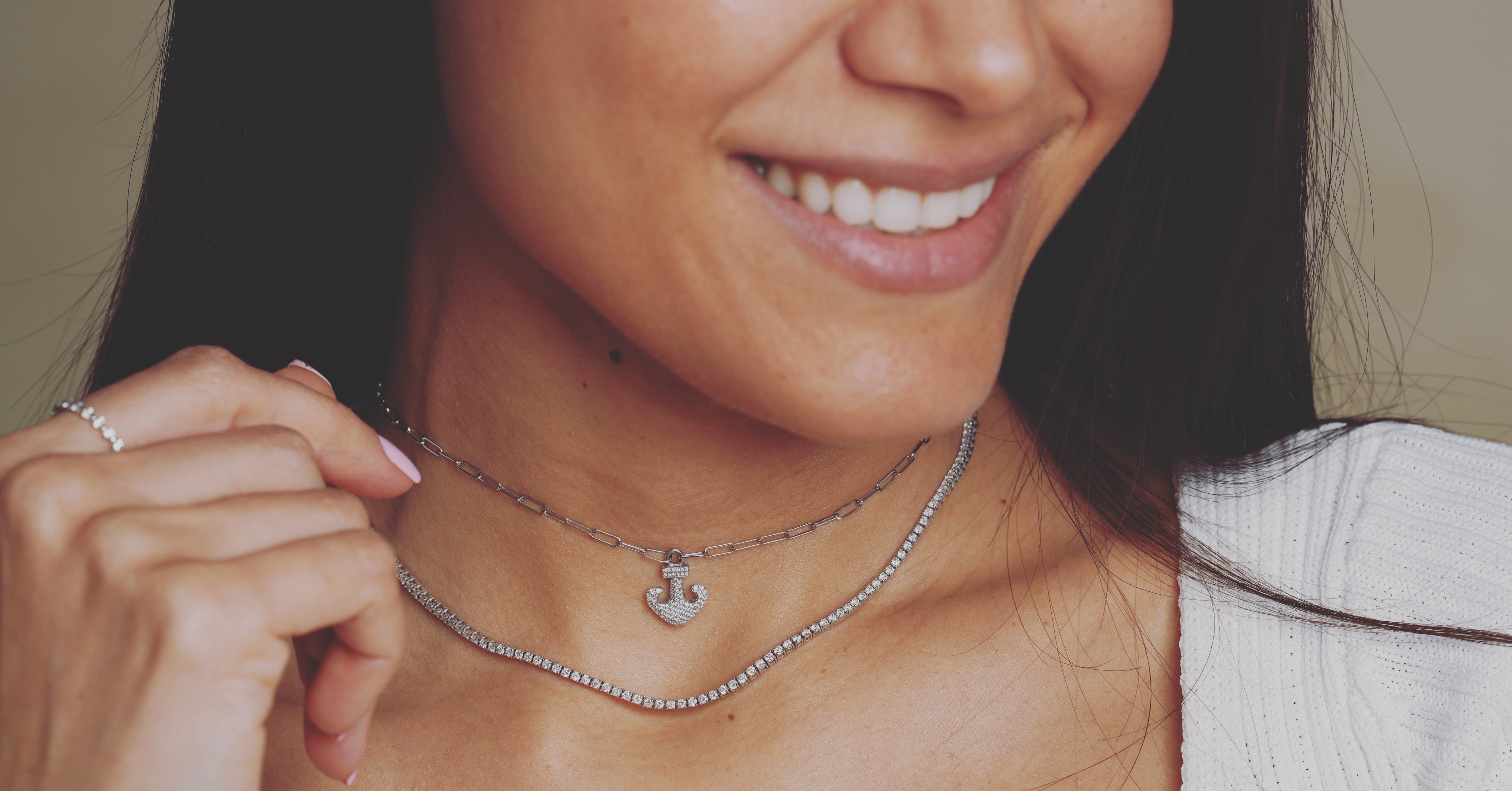 The Diamond Tennis Necklace & Bracelet: A Glistening Duo By Orosergio
Diamonds have always been associated with luxury and status. They are a symbol of love, wealth, and power. When styling it with diamond jewelry, tennis bracelets and tennis necklaces are among the most favoured choices. 
In this article, we'll explore the history of the tennis bracelet, which a famous female tennis player inspired its name, the beauty of diamond tennis necklaces, and the advantages of customizing your own diamond tennis set.
Why is a tennis bracelet called a tennis bracelet
Have you ever asked yourself what is a tennis bracelet? Contrary to what many believe, tennis bracelets are not named after the sport of tennis. 
The term "tennis bracelet" originated in the 1980s when a professional female tennis player named Chris Evert lost her diamond bracelet during a match due to a powerful strike with her racket. 
She asked the officials to pause the game until she found her bracelet on the court. Since then, the jewelry industry has baptized diamond bracelets with a similar design to "tennis bracelets."
The Diamond Tennis Bracelet: Behind The Design
The tennis bracelet is a classic jewelry piece embellished with round brilliant cut diamonds typically set with double prongs. 
It's worn on the wrist and has a striking design that makes it suitable for any occasion. Chris Evert's diamond bracelet was a prime example of this design, and it soon became popular among both tennis players and non-athletes.
Today, diamond tennis bracelets are available in a wide range of styles and designs, from simple and delicate to bold and ornate. 
They're also available in various materials like coloured gemstones so you can find one that suits your taste and budget!
Tennis Necklace: The Absolute Neckline Dazzler
Diamond tennis necklaces are another stunning jewelry piece perfect for any formal occasion. They consist of a chain of round-cut diamonds set side-by-side to form a continuous strand. 
The diamonds in the tennis necklace are typically smaller than those in a tennis bracelet. However, they still create a dazzling effect that will catch the light from every angle and draw the amazement of curious eyes.
This kind of necklace is not only luxurious but smooth on the skin. 
When purchasing a tennis necklace, it's essential to consider the available length and width options. In Canada, tennis necklaces typically have a smaller range in length, with the average length being 40 to 45 centimetres.
The classic round-cut design has same-size stones all over the piece. Still, it can be customized to become a choker if you like shorter neckwear or with graduated diamonds like in the Rivière Necklace, which is a sister design. 
Diamond tennis necklaces can be worn alone or paired with a matching tennis bracelet for an instant luxurious look and the perfect duo to complete the rest of your diamond bridal jewellery.
How do I style it up with a tennis bracelet or necklace?
Consider pairing the diamonds with other metals, such as gold or rose gold, for a chic and modern look. Mixing and matching different styles of bracelets can create a layered effect, adding depth to the overall look. 
Try adding a pair of diamond stud earrings or a statement ring to enhance the sparkle of the diamonds. When it comes to personalizing the look, the possibilities are endless.
Will they make fabulous bridal jewelry on the big day?
Wearing a diamond tennis bracelet and necklace together as bridal jewelry is a classic and cultivated choice for women on their wedding day. 
The sparkle and shine of diamonds add more sophistication to any bridal look. The simplicity of the tennis bracelet will pair well with your pavé diamond wedding band and engagement ring, bringing shine and shimmer to a whole new level. 
Plus, diamonds are a symbol of eternal love and the perfect way to commemorate such a special occasion. Brides can feel confident and radiant as they walk down the aisle and celebrate their unbreakable union by wearing a diamond tennis bracelet and necklace.
Custom Diamond Tennis Bracelet & Necklace: Add your own personal touch
Looking for a unique diamond shape or want to incorporate coloured gemstones into your tennis bracelet or necklace? 
Orosergio specializes in custom jewelry that's tailor-made just for you. To make yours even more special, consider customizing the design to suit your lifestyle. 
With a custom diamond tennis bracelet and necklace, you can make dazzling statements and add something truly special to your jewelry box. 
We can guide you through the entire design process, like choosing the right bracelet size for your wrist, gemstone type and shape, colour, setting, and the type of metal used.
You can also add engravings or other embellishments like black diamonds to create contrast and make your piece even more unique. With a custom diamond tennis bracelet and necklace set, you can create a one-of-a-kind combination that will surely spark a conversation or two!
Conclusion
In conclusion, whether you prefer the diamond tennis bracelet or tennis necklace (or both, why not!) —rest assured you are choosing timeless jewelry favourites that will never go out of style. 
When worn together, they're perfect for any formal occasion like weddings and milestone celebrations, creating a spectacular and sumptuous look.
Were you interested in designing your very own? Let's explore the endless possibilities together and help you create a one-of-a-kind custom diamond tennis bracelet or tennis necklace exactly how you envisioned it. 
Orosergio offers a wide range of high-quality diamonds and fine jewelry customization options at affordable prices without ever compromising our superior craftsmanship and customer excellence promise.