Jewellery For Valentine's Day: A Curated Gift Guide
Posted by Haig Ter-Martirosian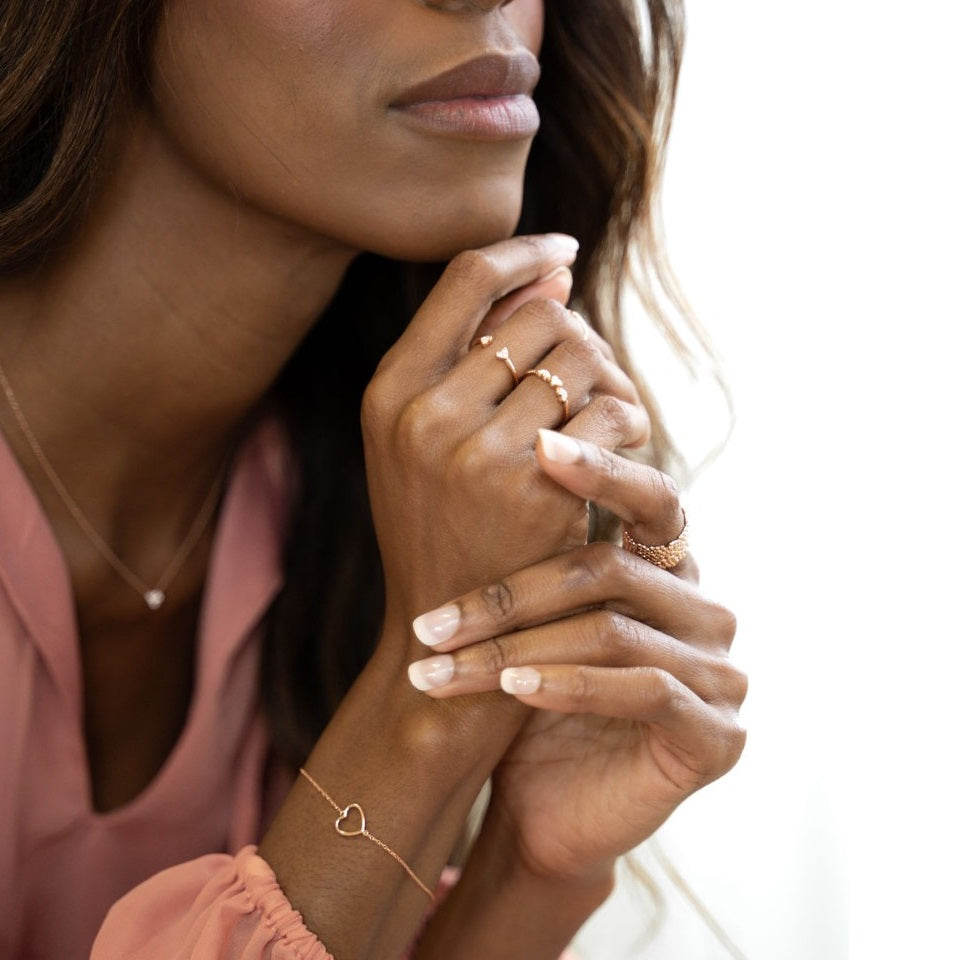 Cupid's arrows strike countless couples every year on February 14th, making it the perfect time to surprise someone you deem special in your heart.
Giving a bouquet of fresh flowers and some fine chocolates is a classic choice, however, a valentine jewelry gift will surely be treasured by your soulmate for years to come!
This guide will provide you with curated gift ideas from our Valentine Collection so you can express your devoted love with a captivating piece signed by Orosergio.
A
heart-shaped bracelet
, now that's '
Amore
'
The Amore heart-shaped bracelet is a delicate and elegant choice of jewellery for valentine's day.
This thin gold bracelet with heart charm features striking micro diamonds that are sure to capture the heart of your loved one. 
The Amore bracelet is handcrafted in 14K yellow, white or rose gold and is fully customizable, making it the perfect fit for any wrist size.
Our heart shaped diamond bracelet makes for a thoughtful and sentimental gift, reminding the recipient of your unconditional love every time they wear it!
Regarding gifting, the Amore bracelet comes in a lovely gift box, ready for that surprise surprise moment!
Reigning Hearts on a ring
Heart rings are definitely a romantic choice that symbolizes true love and commitment towards the recipient.
Our Heart Cuff Ring is a twin heart ring designed to celebrate your romantic union, set with 6 round brilliant cut diamonds totalling 0.05 Ct.
Alternatively, our diamond triple heart ring, baptized the Sweetheart Ring is an absolute beauty and an excellent option if you're looking for a promise ring.
Both of these rings are skillfully handcrafted in downtown Toronto and can be fully customized to your particular design preferences.
Heart shaped Amethyst pendant: Purr-fectly plush!
A heart shaped pendant necklace is another fabulous choice of jewellery for valentine's day.
The Valentina Necklace from Orosergio is a captivating and unique piece that features a heart shaped amethyst pendant carefully set in a bezel.
The depth and beauty of the Amethyst's vivid blue-purplish hues are sure to receive endless compliments from friends and family while symbolizing stability in your relationship — making it the perfect gift for V day!
This February Birthstone necklace is available in three gold shades and 925 Sterling Silver, but you may also choose the gemstone of your choice for this necklace for a gift personalized to her taste.
Our exquisite heart-themed trilogy: Cuore Collection
Indulge in the romance of Cuore, literally 'heart' in Italian, featuring our astonishing heart shaped diamond pendant necklace with matching ring and heart stud earrings.
The Cuore Ring: Tender to the touch
Make a statement with this beautiful heart ring with diamonds, designed to shine and sparkle with every movement. 
The heart-shaped head is the centrepiece of this stunning ring, and it's set with three round brilliant cut diamonds that spell out chic and classy!
Heart rings are an unmistakable symbol of deep affection for someone special and are simply ideal as a Valentine's Day jewelry gift.
This ring is a timeless piece that will be treasured for years to come, perfect for special occasions and everyday wear.
Say it with a pair of
heart stud earrings
Our decadent Heart stud earrings are bound to combine glamour and simplicity in their design details.
If you're looking for a cute, dainty, yet sparkly valentine's day jewelry gift, this is it! The Cuore Earrings from Orosergio is a stunning pair of heart-shaped stud earrings that instantly elaborate your hairstyle and outfit.
Crafted with precision and experience by our team of experts, each earring features three gleaming round-cut diamonds set in a classic prong setting. 
These heart stud earrings catch the light beautifully, radiating a warm sparkle with every movement — making them a timeless addition to any jewelry collection and a perfect valentine jewelry gift!
Heart shaped pendant necklace
Celebrate the depths of your affection with this enchanting heart shaped necklace, the ideal present to astound your beloved on Valentine's Day.
The three round brilliant cut diamonds sparkle in splendour, set in a heart-shaped pendant that hangs gently from an 18" Forca chain.
The Cuore Necklace is a delicate piece that can uplift the mood instantly when gifted and become a cherished keepsake for years to come.
Before you go!
Don't forget to celebrate your love this Valentine's Day in a remarkable way. From traditional gifts like flowers and chocolates to fine jewelry, keep showing your partner and yourself the appreciation you deserve.
Explore our Valentine Collection to shop for the perfect Valentine's Day gift, whether you choose a heart-shaped bracelet, a 3-heart ring or our enchanting Cuore Trio!
Additionally, if you're looking for a custom design to make your gift more personalized, we can help you create a unique piece of jewelry from start to finish. 
You can call us with any questions or set up an appointment at our luxurious downtown Toronto office on 27 Queen Street East — Wishing you a Happy Valentine's Day from Orosergio!